Always arguing over who is stronger, Trunks or Goten. Trunks wanted to shut Vegeta up. Vegeta thought it was a challenge, and they started fighting each other. Bulma tried to stop them but she couldn't. They kept on fighting through the night. They still fought. Trunks and Vegeta went SSJ and nearly destroyed each other. Vegeta launched a big bang attack, but to no avail. Trunks shot a Burning Attack, but to no avail again. Realized they have run out of power, Trunks and Vegeta stopped fighting. Vegeta said, "I taught you well." Trunks says, "I know, but I'm still stronger than Goten." After that, they went home to have dinner. They faught again the next day.
thumb|right|300px|Added by BlazeFireXXXX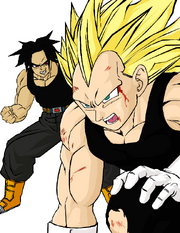 Ad blocker interference detected!
Wikia is a free-to-use site that makes money from advertising. We have a modified experience for viewers using ad blockers

Wikia is not accessible if you've made further modifications. Remove the custom ad blocker rule(s) and the page will load as expected.