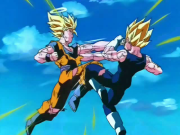 Welcome to the Dragon ball Z Rivals Wiki
This Wiki is for the rivalries and battles of Dragonball Z!
This is a wiki where you can create real dragonball fight pages or rivalry pages, or you can create you own rivals and battles! Don't forget to make a story for your rivals.
You can also create a few attacks, but they have to be used in your fight.
News
On June, 3 Gotek created the Dragonball Z Rivals wiki
On June, 12 Nappa77 became an admin
On June, 20 Goten17 became an admin
On June, 21 Nappa77 lost his admin rights due to being inactive
On June, 23 BlazeFireXXXX replaced Nappa77 as an admin
On July, 4 KillerBaka9 replaced BlazeFireXXXX as an admin and chat mod
Current Admins
If you have any questions or problems ask any of the current admins
Ad blocker interference detected!
Wikia is a free-to-use site that makes money from advertising. We have a modified experience for viewers using ad blockers

Wikia is not accessible if you've made further modifications. Remove the custom ad blocker rule(s) and the page will load as expected.